Stocks Down Under 17 September 2020: Redbubble, Johns Lyng Group, Ora Banda Mining, Uniti Group Update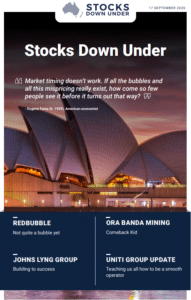 Redbubble: Not quite a bubble yet
Back in March you could get Redbubble, the Melbourne-based online marketplace for art, at 46 cents per share. Then about a month later, when the world realised that the Coronavirus Crisis was really good for online marketplaces, the stock took off. It has shown no signs of slowing down since, because there's a lot of 'Wow factor' built into this business.
Also in today's edition, a look at building conglomerage Johns Lyng Group, gold miner Ora Banda Mining, and an update on the Uniti Group.
Get access to all editions through a 2-week FREE TRIAL. No charge on sign up.