Resources Stocks Down Under 23 June 2022: Southern Cross Gold (ASX:SXG)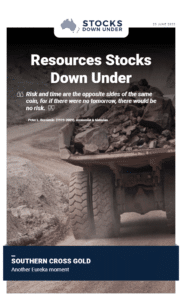 Southern Cross Gold: Another Eureka moment
Southern Cross Gold, which is looking for the yellow metal mainly in Victoria, recently raised $9.1m at 20 cents a share. The stock, which commenced trading on ASX on 16 May, is off to a good start. It is now about triple its IPO price, helped by some great drilling at a place called Sunday Creek.
Click here to read the previous edition of Resources Stocks Down Under published 16 June 2022
For in-depth research reports or to keep up-to-date on the latest Stocks Down Under news see our parent company, Pitt Street Research, or follow us on Facebook and Twitter.