Resources Stocks Down Under 30 June 2022: Australian Gold and Copper (ASX:AGC)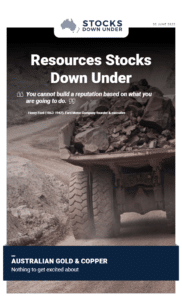 Australian Gold and Copper: Nothing to get excited about
Eighteen months on since Australian Gold & Copper (ASX: AGC) listed, there's been little to get excited about. It listed in January 2021 at 20 cents a share and its valuation has plunged by more than half. This is not because the company hasn't been doing anything, AGC has been a busy explorer in the last 18 months. Rather, its results have been nothing to write home about.
Click here to read the previous edition of Resources Stocks Down Under published 23 June 2022
For in-depth research reports or to keep up-to-date on the latest Stocks Down Under news see our parent company, Pitt Street Research, or follow us on Facebook and Twitter.