Emerging Stocks Down Under 26 July 2022: Tissue Repair (ASX:TRP)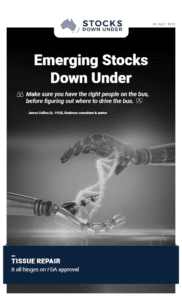 Tissue Repair: It all hinges on FDA approval
This week in Emerging Stocks Down Under, we look at another biotech, but this time it's a newer company that arguably hasn't had a chance to shine. Tissue Repair (ASX: TRP) listed in November last year at $1.15 per share and now sits at only 30 cents. Ouch! Arguably, it timed its IPO poorly, just as the equities boom of 2020-21 was fading. But it has some things that few biotechs have, let alone new listees – a completed Phase II program. So, has it been unfairly treated?
Click here to read the previous edition of Emerging Stocks Down Under published 19 July 2022
For in-depth research reports or to keep up-to-date on the latest Stocks Down Under news see our parent company, Pitt Street Research, or follow us on Facebook and Twitter.