Emerging Stocks Down Under 2 August 2022: Beamtree (ASX:BMT)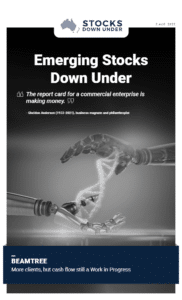 Beamtree: More clients, but cash flow a work in progress
It's been over 18 months since we last covered Beamtree (ASX: BMT), formerly known as PKS Holdings. This company listed in March 2020, but changed its name after buying and consequently integrating two smaller MedTech companies. Beamtree develops and owns various pieces of software for managing healthcare data. With Australia's health system struggling, we think there is space for software, such as RippleDown, that can increase efficiency and reduce human error. But can investors be persuaded to believe Beamtree's mission before it is profitable?
Click here to read the previous edition of Emerging Stocks Down Under published 26 July 2022
For in-depth research reports or to keep up-to-date on the latest Stocks Down Under news see our parent company, Pitt Street Research, or follow us on Facebook and Twitter.