Resources Stocks Down Under 8 April 2021: Lake Resources, Zeotech, Copper Mountain Mining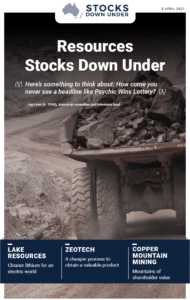 Lake Resources: Cleaner lithium for an electric world
In today's edition of Resources Stocks Down Under, many lithium producers talk a good talk about the necessity of 'clean' lithium, but Lake Resources is one nonmining producer spruiking a timely and environmentally friendly solution to lithium extraction. The company's strategy for getting lithium out of the brines at its flagship Kachi Lithium Project in Argentina is meant to address the need for high-quality lithium-ion batteries as much as lithium demand, and the latest product tests suggest that Lake Resources is on the right track.
Also in today's edition, a look at synthetic zeolite producer Zeotech (ASX: ZEO) and copper miner Copper Mountain Mining (ASX: C6C).
Click here to read the previous edition of Resources Stocks Down Under published 1 April 2021
For in-depth research reports or to keep up-to-date on the latest Stocks Down Under news see our parent company, Pitt Street Research, or follow us on Facebook and Twitter.