ASX Top 200 Stocks Down Under 25 October 2021: Seek, ALS Limited, SCA Property Group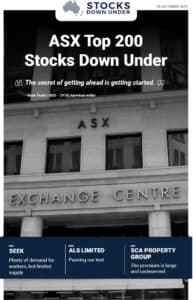 Seek: Plenty of demand for workers, but limited supply
In today's edition of ASX Top 200 Stocks Down Under, headquartered in Abbotsford, Victoria, Seek is a name many in Australia know. When looking for a job, many of us have used seek.com.au to find one. And if you run your own business, you will likely use seek.com.au to find the employees that you need. However, despite the extremely tight Australian labour market at the moment, we expect Seek will struggle to capitalise on it because there is simply not enough supply of workers thanks to the government's very strict lockdowns and travel policies in the last eighteen months. This has not only chased away skilled migrants back to their home countries, but it has also scared off potential new migrants. In other words, we believe Seek won't be able to help businesses fill their job openings.
Also in today's edition, a look at testing provider ALS Limited (ASX: ALQ) and shopping REIT SCA Property Group (ASX: SCP).
Click here to read the previous edition of ASX Top 200 Stocks Down Under published 18 October 2021
For in-depth research reports or to keep up-to-date on the latest Stocks Down Under news see our parent company, Pitt Street Research, or follow us on Facebook and Twitter.