ASX Top 200 Stocks Down Under 11 November 2021: Qantas Airways, Anglogold Ashanti, Bapcor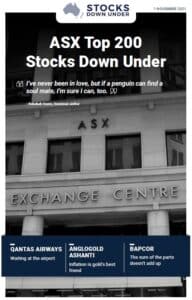 Qantas Airways: Waiting at the airport
In today's edition of ASX Top 200 Stocks Down Under, when we last covered the Sydney-based airline Qantas Airways in April 2020, we stated there was a lot more upside in the stock. This was after the shares had gained 66% from their low of $2.14 and were trading at $3.56. Fast forward almost eighteen months and the stock is trading at $5.37. With the pandemic showing signs of slowing and Australia opening up, now is a good time to take another look at Qantas. Spoiler alert: we think QAN stock will be flying a lot higher this time next year.
Also in today's edition, a look at gold miner Anglogold Ashanti (ASX: AGG) and car parts, accessories and services retailer Bapcor (ASX: BAP).
We last wrote about the Qantas Airways, Anglogold Ashanti, and Bapcor on 14 April 2020, 13 April 2020, and 16 November 2020, respectively.
Click here to read the previous edition of ASX Top 200 Stocks Down Under published 25 October 2021
For in-depth research reports or to keep up-to-date on the latest Stocks Down Under news see our parent company, Pitt Street Research, or follow us on Facebook and Twitter.