Stocks Down Under 28 August 2020: ALS ltd, De Gray Mining, AVJennings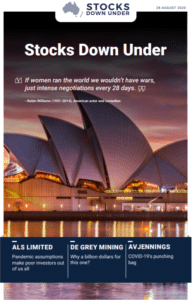 ALS LIMITED: Pandemic assumptions make poor investors out of us all
ALS Limited is a provider of lab testing, inspection, certification and verification solutions across
65 countries in Africa, Asia, Australia, Europe and the Americas. The company is headquartered
in Brisbane and operates out of 350 locations around the globe providing services to at least 12
different industries in addition to environmental testing. While an investor would be forgiven for
assuming that COVID-19 was a boon to ALS Limited, the company has indicated that the opposite is true and even life sciences, the most COVID-19 relevant division, has seen a decline in revenue.
Get access to all editions through a 2-week FREE TRIAL. No charge on sign up.