ASX Top 200 Stocks Down Under 23 August 2021: Ansell, Super Retail Group, PPK Group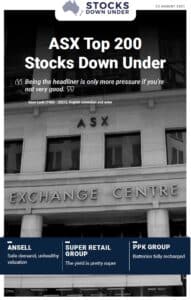 Ansell: Safe demand, unhealthy valuation
In today's edition of ASX Top 200 Stocks Down Under, we suggested a hands-off approach to Melbourne-based industrial and medical glove maker Ansell on 27 February 2020. Although we liked the company, weaker Chinese demand for industrial gloves during what appeared to be an epidemic was reason for pause. Once COVID-19 reached pandemic proportions, things changed, including hyper demand for medical gloves and other PPE. With global vaccination rates progressing, we expect Ansell to revert to its usual steady, but uninspiring growth and see the current valuation as stretched.
Also in today's edition, a look at auto parts and sporting goods conglomerate the Super Retail Group (ASX: SUL) and diversified technology developer the PPK Group (ASX: PPK).
Click here to read the previous edition of ASX Top 200 Stocks Down Under published 16 August 2021
For in-depth research reports or to keep up-to-date on the latest Stocks Down Under news see our parent company, Pitt Street Research, or follow us on Facebook and Twitter.