ASX Top 200 Stocks Down Under 25 January 2021: AfterPay, Dicker Data, A2 Milk Company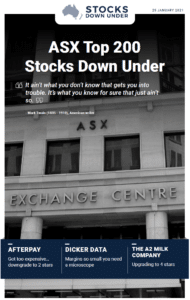 AfterPay: Got too expensive… downgrade to 2 stars
In today's edition of ASX Top 200 Stocks Down Under, as most of our readers will know, we have been big fans of the Buy Now, Pay Later space for some time, including AfterPay. This company first appeared on our radar screen back in October 2019 when it was trading below $30 per share. At the time it was fashionable among mainstream media to talk about how much the ASX-listed Tech stocks were overvalued. But back then we argued AfterPay was actually very cheap given its growth metrics. However, more than a hundred dollars per share later we believe this is no longer the case. Let us explain.
Also in today's edition, a look at technology product distributor Dicker Data (ASX: DDR) and milk product producer the A2 Milk Company (ASX: A2M).
Get access to all editions through a 30-day FREE TRIAL. No credit card required and the trial expires automatically.
Click here to read the previous edition of ASX Top 200 Stocks Down Under published 18 January 2021
For in-depth research reports or to keep up-to-date on the latest Stocks Down Under news see our parent company, Pitt Street Research, or follow us on Facebook and Twitter