ASX Top 200 Stocks Down Under 31 October 2022: Xero (ASX:XRO)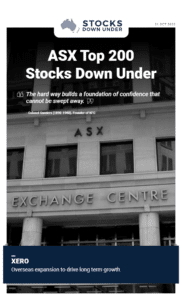 Xero: Overseas expansion to drive long-term growth
Xero's (ASX:XRO) recent marketing campaign sums up what this company is all about. Specifically, helping businesses do business. The company, which has over 3 million subscribers, primarily sells accounting software that helps businesses keep books, pay bills and send invoices. But it has gradually developed features useful beyond book-keeping, such as storing files, converting currencies, keeping track of inventories and creating professional quotes. Xero has grown really fast in the last decade. To justify its current valuation, the company will need to keep up its recent growth rate. But can it achieve this growth and just how much does it have to grow to justify a higher share price?
Click here to read the previous edition of ASX Top 200 Stocks Down Under published 24 October 2022.
For in-depth research reports or to keep up-to-date on the latest Stocks Down Under news see our parent company, Pitt Street Research, or follow us on Facebook, LinkedIn and Twitter.