ASX Top 200 Stocks Down Under 16 May 2022: Ventia Services (ASX:VNT)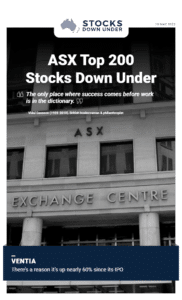 Ventia: There's a reason it's up nearly 60% since its IPO
There have been plenty of disasters in the IPO market in the last six months, but Ventia has been an exemption. The company is an essential services network, providing maintenance rather than major capital works, focusing on a variety of sectors, but having a significant focus on government works. Ventia had a tough journey to market, but since listing its up over 50%, even in the current bear market, as a result of exceeding prospectus forecasts.
Click here to read the previous edition of ASX Top 200 Stocks Down Under published 9 May 2022
For in-depth research reports or to keep up-to-date on the latest Stocks Down Under news see our parent company, Pitt Street Research, or follow us on Facebook and Twitter.