Resources Stocks Down Under 21 October 2021: Bardoc Gold, Pure Hydrogen, Horizon Gold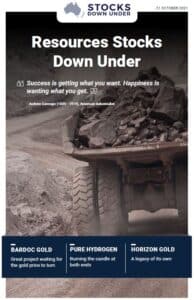 Bardoc Gold: Great project waiting for the gold price to turn
In today's edition of Resources Stocks Down Under, Formed in 2018 from the merger of Excelsior Gold and Spitfire Minerals, Bardoc Gold has been busy consolidating its growing portfolio of gold projects in Western Australia's Eastern Goldfields. It's on track to develop a new >100,000 ounce per year gold mine on Kalgoorlie's doorstep. The only trouble is that gold has come off the boil in the last few months. And come off in a serious way.
Also in today's edition, a look at developing Australian hydrogen producer Pure Hydrogen (ASX: PH2) and gold miner Horizon Gold (ASX: HRN).
Click here to read the previous edition of Resources Stocks Down Under published 14 October 2021
For in-depth research reports or to keep up-to-date on the latest Stocks Down Under news see our parent company, Pitt Street Research, or follow us on Facebook and Twitter.