Resources Stocks Down Under 15 July 2021: Beacon Minerals, Predictive Discovery, Devex Resources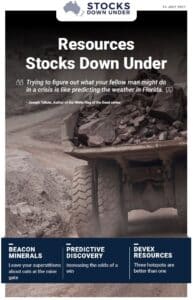 Beacon Minerals: Leave your superstitions about cats at the mine gate
In today's edition of Resources Stocks Down Under, Beacon Minerals has had an excellent start to production at its Jaurdi Gold Project in WA, with a swift commissioning process and better than expected quarterly production numbers. That success has also translated into actual dividends, which is unusual for a junior miner. The task for Beacon now is to make the most out of a small, but sturdy starter project while it searches for an ore reserve boost.
Also in today's edition, a look at gold miner Predictive Discovery (ASX: PDI) and uranium, copper, gold, and nickel miner Devex Resources (ASX: DEV).
Click here to read the previous edition of Resources Stocks Down Under published 8 July 2021
For in-depth research reports or to keep up-to-date on the latest Stocks Down Under news see our parent company, Pitt Street Research, or follow us on Facebook and Twitter.