Emerging Stocks Down Under 31 May 2022: Chrysos (ASX:C79)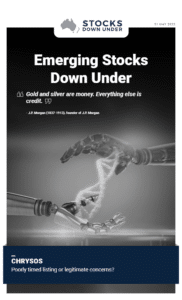 Chrysos: Poorly timed listing or legitimate concerns?
Every now and then, one of the CSIRO's inventions gets spun out of the public service and onto the public markets. While typically these are medical or agriculture-focused spin outs, Chrysos' (ASX: C79) technology focuses on the resources sector. Its PhotonAssay units are essentially high-powered X-rays that process rock samples for
gold and other metals. Mr. Market has not been a fan of the company since it listed a few weeks ago sending it down from $6.50 to as low as $3.77. But did the company just time its ASX listing poorly, or should investors genuinely be concerned about the company?
Click here to read the previous edition of Emerging Stocks Down Under published 24 May 2022
For in-depth research reports or to keep up-to-date on the latest Stocks Down Under news see our parent company, Pitt Street Research, or follow us on Facebook and Twitter.