Emerging Stocks Down Under 8 November 2022: AML3D (ASX:AL3)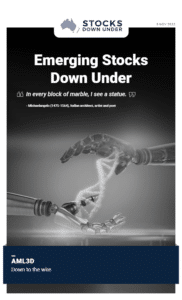 AML3D: Down to the wire
At the moment you need a magnifying glass to see the market capitalisation of AML3D, the 3D printing company from Adelaide. We see potential for that to change, because this company's Wire Additive Manufacturing technology is starting to get used in all sorts of interesting applications. Look for more announcements like that from 26 October, where it was revealed that AML3D made parts are going into Australian Navy ships.
Click here to read the previous edition of Emerging Stocks Down Under published 1 November 2022.
For in-depth research reports or to keep up-to-date on the latest Stocks Down Under news see our parent company, Pitt Street Research, or follow us on Facebook and Twitter.