Property Stocks Down Under 2 March 2022: Goodman Group (ASX:GMG)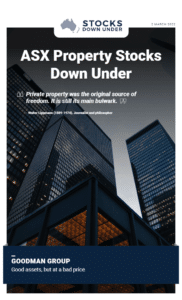 Goodman Group:
Good assets
,
but at a bad price
Today we look at Goodman Group (ASX: GMG). This company is the largest property stock on the ASX. It owns, develops and leases industrial properties, such as logistics facilities, warehouses and office parks. The company has been a beneficiary of the ecommerce boom, gaining over 40% in the past couple of years. The last couple of times we covered Goodman we gave it four stars because of its growth catalysts, but now that it has grown so substantially, does it remain as compelling?
Click here to read the previous edition of Emerging Stocks Down Under published 23 February 2022.
For in-depth research reports or to keep up-to-date on the latest Stocks Down Under news see our parent company, Pitt Street Research, or follow us on Facebook and Twitter.