Resources Stocks Down Under 17 February 2022: Black Rock Mining (ASX:BKT)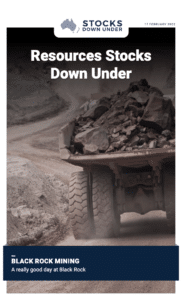 Black Rock Mining: A really good day at Black Rock
In today's edition of Resources Stocks Down Under, we look at another Tanzanian-focused graphite play – Black Rock Mining. Black Rock has re-rated nicely since we last covered it back in June last year, helped by the December 2021 signing of a Framework Agreement that gives the government of Tanzania their mandatory 16% of the project. With 2022 the year that will likely see this monster project get funded, we think there's more upside to this one.
Click here to read the previous edition of Resources Stocks Down Under published 10 February 2022
For in-depth research reports or to keep up-to-date on the latest Stocks Down Under news see our parent company, Pitt Street Research, or follow us on Facebook and Twitter.