Resources Stocks Down Under 7 April 2022: Jade Gas (ASX:JGH)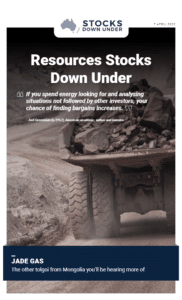 Jade Gas: The other tolgoi from Mongolia you'll be hearing more of
This week's subject is Jade Gas (ASX: JGH), developer of a coalbed methane project in Mongolia. The company backdoor listed late last year and we think given the world's sudden need for new sources of gas and the company's recently initiated appraisal well drilling programme – it is due for a re-rate. Before 2022 is out, all six of its Red Lake wells will have been drilled and we'll have a good idea of the gas content and permeability of the seams – the key to getting the gas to the surface.
Click here to read the previous edition of Resources Stocks Down Under published 31 March 2022
For in-depth research reports or to keep up-to-date on the latest Stocks Down Under news see our parent company, Pitt Street Research, or follow us on Facebook and Twitter.