Resources Stocks Down Under 8 September 2022: Southern Palladium (ASX:SPD)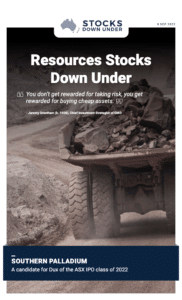 Southern Palladium: A candidate for Dux of the ASX IPO Class of 2022
Since listing barely three months ago, Southern Palladium (ASX: SPD) has more than doubled from its IPO price of 50c a share. Not only is it one of the few IPOs to have gained rather than lost ground, but it is the 2nd best IPO for 2022, only trailing Belarox (ASX:BRX). Southern Palladium is also one of the few to be dual-listed, having joined the Johannesburg Stock Exchange at the same time as the ASX. Why has this company done well when so many other companies have not?
Click here to read the previous edition of Resources Stocks Down Under published 1 September 2022.
For in-depth research reports or to keep up-to-date on the latest Stocks Down Under news see our parent company, Pitt Street Research, or follow us on Facebook and Twitter.