Small Cap Stocks Down Under 13 January 2023: Life 360 (ASX:360)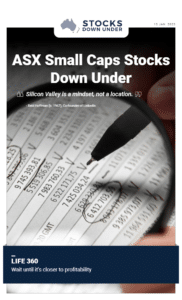 Life 360: Wait until it's closer to profitability
To say that Life 360's (ASX:360) history as a company has been interesting would be an understatement. The San Francisco-based company opted to list on the Australian bourse in May 2019. It wanted to list on an exchange instead of raising another round of private capital, but was too small to list on the NASDAQ. Despite enduring pandemic lockdowns and the 2022 Tech Crunch, its market capitalisation has grown by over 30% since listing. It has been a volatile ride for shareholders, however.
Click here to read the previous edition of Small Cap Stocks Down Under published 6 January 2023.
For in-depth research reports on ASX-listed stocks, check out our parent company, Pitt Street Research, or follow us on Facebook and Twitter.