Resources Stocks Down Under 20 January 2022: Sunstone Metals, Red Dirt Metals, Altech Chemicals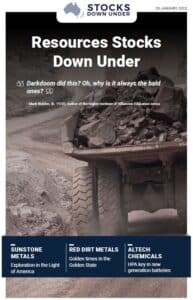 Sunstone Metals: Exploration in the Light of America
In today's edition of Resources Stocks Down Under, aptly-named Sunstone Metals is hunting for large-interconnected copper and gold systems in Ecuador. If there's one thing this little South American country has a lot of, it's copper and gold. That reputation is delivering strong results for Sunstone at two underexplored projects – Bramaderos (87%) and El Palmar (51%). Having reached its first objective at El Palmar, Sunstone is awaiting further assays to plan its next steps.
Also in today's edition, a look at gold and copper miner Red Dirt Metals (ASX: RDT) and alumina producer Altech Chemicals (ASX: ATC).
Click here to read the previous edition of Resources Stocks Down Under published 13 January 2022
For in-depth research reports or to keep up-to-date on the latest Stocks Down Under news see our parent company, Pitt Street Research, or follow us on Facebook and Twitter.