ASX Top 200 Stocks Down Under 3 May 2021: Transurban Group, Goodman Group, Coles Group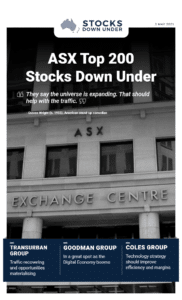 Transurban Group: Traffic recovering and opportunities materialising
In today's edition of ASX Top 200 Stocks Down Under, we last wrote about Melbourne-based Transurban Group on 1 June 2020 when there wasn't much traffic buzzing around Australia's highways. This took an unfortunate toll on the toll-road operator's financial results. But with the economy reopening, traffic improving and development opportunities progressing, the road ahead looks brighter. The Transurban share price rebounded more than 50% from its pandemic low but has since retreated almost 20%. We see this as an opportunity to invest in a defensive business with long-term, income-producing assets.
Also in today's edition, a look at logistics Real Estate Investment Trust the Goodman Group (ASX: GMG) and grocery retailer the Coles Group (ASX: COL).
Click here to read the previous edition of ASX Top 200 Stocks Down Under published 26 April 2021
For in-depth research reports or to keep up-to-date on the latest Stocks Down Under news see our parent company, Pitt Street Research, or follow us on Facebook and Twitter.