Resources Stocks Down Under 5 November 2020: Tribune Resources, Calidus Resources, Mayur Resources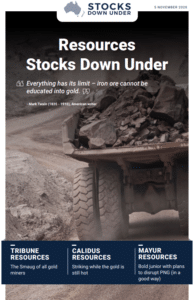 Resources Stocks Down Under Edition #7
Tribune Resources: The Smaug of all gold miners
In today's edition of Resources Stocks Down Under, for a successful gold explorer, Tribune Resources has been oddly quiet about its recent success at its Ghanaian gold project. This small-cap has been producing gold ore at the East Kundana Gold Project (EKJV) in WA since 2005, so its foray into Ghana and the Philippines might come as a surprise for a company which rarely makes the big news. Tribune has, by and large, had a good year on the market, holding above $7.00 and making a high of $8.20 in August.
Also in today's edition, a look at gold miner Calidus Resources (ASX: CAI) and industrial minerals and energy company Mayur Resources (ASX: MRL).
Get access to all editions through a 2-week FREE TRIAL. No charge on sign up.
Click here to read the previous edition of Resources Stocks Down Under published 29 October 2020
For in-depth research reports or to keep up-to-date on the latest Stocks Down Under news see our parent company, Pitt Street Research, or follow us on Facebook and Twitter