Small Cap Stocks Down Under 13 August 2021: Tuas, Mitchell Services, Verbrec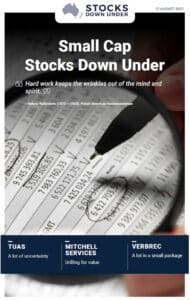 Tuas: A lot of uncertainty
In today's edition of Small Cap Stocks Down Under, one of the biggest deals during 2020 was the merger between TPG Australia and Vodafone Hutchison Australia to create the new entity TPG Telecom (ASX: TPG | see 21 June 2021 report). As part of this merger, TPG Singapore was demerged to form Sydney-based Tuas. Tuas' stock has been trading mostly sideways since the start of the year, although we have recently seen a tiny bump.
Also in today's edition, a look at drilling services provider Mitchell Services (ASX: MSV) and services and training provider Verbrec (ASX: VBC).
Click here to read the previous edition of Small Cap Stocks Down Under published 6 August 2021
For in-depth research reports or to keep up-to-date on the latest Stocks Down Under news see our parent company, Pitt Street Research, or follow us on Facebook and Twitter.