Get a 3-month FREE TRIAL to CONCIERGE now!
Concierge gives you timely BUY and SELL alerts on ASX-listed stocks
Kinetiko (ASX:KKO): Interview with Chairman Adam Sierakowski
We spoke with Adam Sierakowski, Executive Chairman of Kinetiko (ASX: KKO), about the strong prospects of the company's Amersfoort Gas Project in South Africa at a time when South Africa is seeking to transition away from coal.
Amersfoort's large contingent resource of 4.9 TCF of gas is about to transition over to a reserve calculation.
Full transcription below.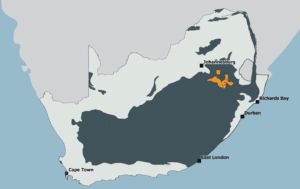 Read our most recent article on KKO here
Transcription
Stuart: Hello, and welcome to "Stocks Down Under." My name is Stuart Robertson. I'm one of the cofounders of our firm. And joining me from Perth on the 25th of October 2021 is Adam Sierakowski, who's the executive chairman of Kinetiko ASX:KKO. Adam, good morning,
Adam: Good morning, Stuart. Thanks for having me on.
Stuart: We were joking before we started recording that you've got a real hero there to your left in Don Bradman. There's another hero that you're working on at the moment. It's called the Amersfoort Gas project in South Africa. Amersfoort is an overnight success story. You've only been working at it for 10 years now. But you've come a long way in 10 years, right?
Adam: Yes, you know, we like to say the good things are worth waiting for. And I think in countries like South Africa, it's important that you've gotta learn your stripes sometimes. And we're very proud and eager to say that we've come a long way with this project and we're about to start drilling again. And yeah, it's a journey that we're very comfortable paying dividends.
Stuart: Sure. Now, a lot of resources are focused investors will know that South Africa is pretty rich in coal. You're now tapping some of that coal seam gas in Mpumalanga Province. You're roughly midway at Amersfoort between Joburg and Durban. And it's turning out to be a real monster. We're talking 4.9 TCF at the contingent resource level. That's a pretty significant project.
Adam: Yeah, no, it certainly is. Our vision is to be the biggest onshore gas producer in southern Africa. So, we don't shy away from that. We've got a huge land footprint there. Our geological thesis is anchored in the Karoo Coal Basin, which is one of the largest in the world and we've been able to show that there are gassy coal missions there and the gas, it's not only in the coals, but it sits outside of coals in the adjacent sand and mudstone. So, we think we've got a big tiger by the tail. As I said, it's taken us many, many years to build that presence and that profile in South Africa, but we believe now's the right time.
Stuart: Well, and location is exquisite. Within a very short driving distance of the core of the project is 10 coal-fired power stations that could conceivably convert to gas if there was enough gas available. Right?
Adam: Yeah, and I must say, Stuart, that was what first attracted me to the project was that you can go to many exotic places in the world and find some fantastic geological features and potential resources, but most of the time, they can be isolated and infrastructure constrained. This project only 160, 70 kilometers Southeast of Amersfoort is in the heart of South African energy infrastructure. We have those coal-fired power stations that surround us. We have the substance of South Africa's high voltage, sorry, electric network that traverses our project. And indeed, the only gas pipeline that exists in South Africa, which brings gas from the Temane field in Mozambique, pivots just North of our project, and then effectively goes through us equidistant down to Richards Bay. So we also have that infrastructure there to utilize in the future.
Stuart: Right. Now, the timing is exquisite in two ways, as you alluded before. We're now doing some more exploration drilling, potentially to move towards our first reserve for Amersfoort. But also we're having what they call in South Africa load shedding at the moment, basically the overloading of the grid because some of those aging power stations that Eskom have online, really can't cope with the amount of drawdown at the moment. So, they go through an energy crisis and gas is a great alternative at a time when you're about to have, not just a large resource, but half decent reserve if the exploration drilling goes your way.
Adam: Yeah, absolutely. And again, I don't wanna sound like a broken record but it's taken a long time for us to get to this point. We always believe that South Africa needed an alternative energy supply. And what we're saying, as your say, is that Stuart, these coal-fired gas power stations, not only are they in decay, but in fact, they're too expensive to maintain or to repair, and that their carbon emissions are some of the worst in the world because of that. So, you know, the language, not only globally, but I can assure you very much in South Africa is to augment away from that traditional power generation to an alternative and gas a very strong candidate for the next one in line.
Stuart: Right. And recently, yeah, the administration President, Cyril Ramaphosa, was talking about a liberalization of the energy market. You now have companies allowed to self-generate electricity that previously wasn't the case. Now, I haven't checked on this, but I'm guessing that the President's going to the Glasgow summit shortly. This would be a great way… Projects like yours would be a great way for South Africa to reduce its emissions.
Adam: Yeah, our company is based on several models to scale into a market. I mean, those coal-fired power stations are at the top end of potential customers. But at the lower and mid-end, there are innumerate potential customers in South Africa, where we now have the potential, given the initiatives you just alluded to, to be a small power producer ourselves. And, you know, the technology that's available, Stuart, you know, we can get small gas-fired electricity generators, something that's the size of a shipping container, and we can go and put them in multiple places around our sites and build small, you know, gas production clusters. That's just one of the alternatives we can think about getting gas to market.
Stuart: Right. Now, a lot of other things are falling into place for your residue. You've got your black economic empowerment partner, and then now actually taking equity in the larger vehicle rather than being a joint venture. Now, that's gotta be a plus for the story, right?
Adam: Yeah, look, it's been a really big milestone for us, Stuart. I mean, like, all of these journeys, partnerships are key. And some of the reasons we've been a bit delayed is because we've had to manage that partnership historically. But a little over 12 months ago, we both came together and worked on a merger. So Kinetiko will be 100%, owner of the assets. We hope, if not by the end of this year, early next year, and that our BA partners will be embedded in Kinetico, the list of Australian entity.
Stuart: Right. Now, so, the timing is good in the sense that you do some drilling to move towards a reserve status. You've also had some tests with various key customers out there at the moment in terms of shipping then compress gas to look at the quality of the asset that you're sitting on. When can we potentially expect to see some progress on the first-off takes from Amersfoort?
Adam: Stuart, the testing we have has shown the gas to be, you know, of a very high quality, you know, up to 99% methane at times, very, very low in impurity. What's important, we also stimulate so far in our testing a small amount of water. And that water is nearly agricultural grade. So in the future, we might even be able to offer that to local farmers. And we don't frack that. That's a very important environmental attribute.
Stuart: And I wanted you to focus on that. All the investors who know the coal seam gas base are used to the need for fracking. How do you manage to avoid that?
Adam: Yeah, well, what we found is that our geological setting has the gas accumulations in relatively low, forming coal seams. I mean, a lot of our holes, particularly in this new upcoming drilling program, aren't envisaged to go below 500 meters. And Stuart, we just found that because we're not deep, the small amount of water, it's not highly toxic and we don't need to frack. And I must assure you, you know, South Africa is as an environmentally sensitive jurisdiction as nearly any on the planet…
Stuart: Including our own.
Adam: …including our own. And they have a moratorium on fracking in South Africa. You can't do it. So it's very important that we're able to show that we can do things at the highest environmental level. And it also means that it's very unlikely that the bigger end of town is going to come and be producing gas alternatives in South Africa anytime soon.
Stuart: Now, to that end up, what approvals and permitting do we still need to get in order to launch this project?
Adam: We, at the moment hold a gas production permit in what we call a sampling category. So there's only one other gas production permit in South Africa that's held by the [inaudible 00:08:47] Renergen. So we are the second one. We're in the mode at the moment of taking that to a full production right. We hope to do that, we have plenty of time to do that. Obviously, we're not in a production phase at the moment. We're in a phase of taking our contingent reserves to resources first, and that's what this current drilling program is underway. But to your question, all of our other permitting is fundamentally in place. We have environmental compliance through permitting, all of the rights we need to drill aggressively, right up to that full production scenario.
Stuart: Well, as you said, it's only taken 10 years to get here, but we're in a very good place right now. Adam Sierakowski and the rest of the team, well done in what you've achieved at Kinetiko, and good luck with the next stage of the journey.
Adam: Thanks, Stuart. Appreciate the opportunity to tell the story.