Here's how to use stop losses to help you minimise investment losses and protect your gains
A stop loss is one of the best ways for investors to minimise losses on any investment. It is a pre-determined price at which investors will sell out of a company at a loss.
Many brokers enable investors to set a stop loss and automatically sell if a stock reaches that price. They will offer this for most exchanges, whether the relevant security is listed on ASX, the NASDAQ, or another international market.
But why is it important and how do investors set a stop loss?
SIGN UP FOR THE STOCKS DOWN UNDER NEWSLETTER NOW!
Investors should set a stop loss to minimise losses
Setting a stop loss helps to protect them from losses that can occur due to volatility in the company's shares or the market generally.
A stop loss is a predetermined price level that triggers a sale if the price of the asset drops below that level.
It allows traders to limit their risk and ensure they don't suffer large losses if the market moves against them.
Setting a stop loss also helps traders take emotion out of the equation and make decisions based on facts rather than feelings.
When faced with a losing trade, traders usually feel pressure to minimize their losses by waiting until the market turns around so they can break even.
However, this strategy can result in further losses if prices continue to fall.
A stop-loss order takes this emotional decision-making component out of the equation by automatically triggering a sale when prices reach a certain point, helping investors cut their losses before further damage occurs.
On the flip side, setting a stop loss could mean investors miss out on any recovery that might occur, especially if they have set a stop loss in their online broker that occurs as soon as the company hits the specific share price.
How to set a stop loss
To set a stop-loss, investors must first identify how much risk they are willing to take on and determine what percentage loss would represent an unacceptable loss for them.
This will vary depending on the investor's goals and risk tolerance levels, but should generally be lower than their purchase price.
Once they have established what an acceptable loss looks like for them, they then need to find out what type of order is available with their broker, as some brokers may offer trailing stop-loss orders or other options that might be more beneficial for certain traders.
Once they know what type of order is available, investors should place it at their chosen price level so it will automatically trigger whenever that threshold is reached.
They should also keep in mind that stop-loss orders are not guaranteed and may fail in fast-moving markets due to a substantially declining share price. In other words, a share price could suddenly fall below a stop loss and even though the order may be fulfilled, it will be way below the stop loss.
Rapid share price declines of over 50% in a day can occur in some circumstances such as poor exploration results for a resources explorer, or poor results from a clinical trial in the case of biotechs.
Actinogen (ASX:ACW) is one example of the latter scenario in mid-2019. Investors who set a stop loss higher than 1.5c in that scenario would be left with greater losses than they would've anticipated.
Therefore it is important for traders to continuously monitor their trades in case these conditions occur and intervene manually if necessary.
It's also important for investors to assess how liquid assets are before setting a stop loss as assets with low liquidity could lead to greater slippage or gaps in prices which could cause unexpected losses regardless of where the stops were placed.
A stop loss can also help protect gains
A stop loss isn't just useful at minimising losses. When you have made a good gain on an individual stock, setting a certain stop loss level above the price you bought in, might help you protect some of your gains.
This is something we have recommended at Stocks Down Under Concierge with a number of our picks.
It is easy for investors sitting on gains to be complacent and think their company can only go up. But even if investors have a company where this is true, setting a stop loss can give peace of mind that they will walk away with something, even if circumstances should change.
If you don't set stop losses…
…you should start right away, for all the reasons we have mentioned above.
Even if you are sitting on a good company with significant tailwinds, a stop loss will give you peace of mind and potentially protect gains that you already have made.
But if you are invested in a riskier company, it minimises potential losses from what they may otherwise would be.
Stocks Down Under Concierge is here to help you pick winning stocks!
The team at Stocks Down Under have been in the markets since the mid-90s and we have gone through many ups and downs. We have written about every sector!
Our Concierge BUY and SELL service picks the best stocks on ASX. We won't just tell you what to buy – we give you a buy range, price target and stop loss level in order to maximise total returns. And we will only recommend very high conviction stocks where substantial due diligence has been conducted.
Our performance is well ahead of the ASX200 and All Ords.
You can try out Concierge for 3 months … for FREE.
GET A 3-MONTH FREE TRIAL TO CONCIERGE TODAY
There's no credit card needed – the trial expires automatically.


Stocks Down Under
Average rating:
0 reviews
If investing in resources stocks (particularly junior explorers) is too risky, another option is investing in metal exchanges. But is…
Investors have been excited about Leo Lithium (ASX:LLL) over the past year and so have we! We thought this was…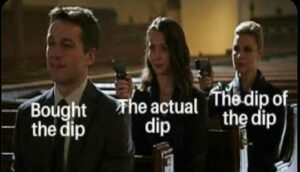 We recap the 5 top investing mistakes that investors make. These mistakes are not the only ones investors make, but…