Market personalities: Here are the 4 that mean monumental business on the ASX
There are a handful of people that are such famous market personalities that when they say or do anything, investors take notice. And with good reason.
In this article we outline 4 of the most prominent figureheads on the Australian bourse. These individuals have had success with several companies – as investors and as management – and any movements (or even comments) from them are regarded such substantial prominence by investors.
Do you need solid trading & investment ideas on the ASX? Stocks Down Under Concierge can help!
Concierge is a service that gives you timely BUY and SELL alerts on ASX-listed stocks – with price targets, buy ranges, stop loss levels and Sell alerts too. We only send out alerts on very high conviction stocks following substantial due diligence and our stop loss recommendations limit downside risks to individual stocks and maximise total returns.
Concierge is outperforming the market by a significant margin!
GET A 3-MONTH FREE TRIAL TO CONCIERGE TODAY
4 of the most renowned market personalities on the ASX
Tim Goyder
As far as successful market personalities go, you can't go much more successful than Tim Goyder. He is involved with not one, but two of the biggest successes of the ASX resources sector. Liontown Resources (ASX:LTR) and Chalice Mining (ASX:CHN), which have been multi-baggers off the back of major discoveries and made him a billionaire.
Liontown stumbled across the Kathleen Valley Lithium project, which contains 5.4Mt of lithium and will enter production in 2024. Chalice, meanwhile, found the Gonneville nickel-PGE deposit, which is the largest such find in Australian resources exploration history. It has 16Moz of 3E (platinum palladium and gold), 860kt of nickel, 520kt of copper and 3MT of nickel equivalent product.
Goyder also has stakes in DevEx Resources (ASX:DEV) and Strike Energy (ASX:STX) as well as Minerals 260 (ASX:MI6) and Falcon Minerals (ASX:FAL), which are demergers from Liontown and Chalice respectively. You could say business runs in the Goyder family given his cousin Richard is the chairman of Qantas (ASX:QAN) and the AFL.
Solomon Lew
Solomon Lew best known today for being the Chairman of the Premier Investments Group, which has stakes in several retail outlets including a 25% stake in Myer (ASX:MYR) and a 25% stake in Breville (ASX:BRG). He has also served as a director of nine public companies and is one of Australia's most influential corporate leaders.
He built his sizable wealth over the years through investments in several large and successful retail-related businesses, such as Just Jeans, Portmans, Jay Jays, and Smiggle. ASX shareholders who've followed this market personality would have made spectacular returns. Including dividends, Premier has delivered total shareholder returns of over 1100% since August 2008.
Bevan Slattery
Bevan Slattery is an influential personality in the technology and telecommunications industry. He is the founder of a number of successful companies (listed and non-listed), including Superloop, Megaport, NextDC and Airtree Ventures.
Although he hasn't been involved with NextDC (ASX:NXT) for about a decade, he remains involved with Megaport (ASX:MP1) on a day to day basis. His biggest success was with Pipe Networks that was acquired by TPG in 2010 for $373m.
Slattery also has made investments in other companies – most notably Pointerra (ASX:3DP) and Intellihr in 2020 which sent shares in both companies skyrocketing. He made a successful exit from IntelliHR a couple of months ago as it was bought at 24c per share – nearly 6 times the price he bought in at less than 3 years ago.
Paul Hopper
Paul Hopper has been a market personality in the biotech sector for over 20 years. His biggest success was Viralytics, which was bought by Merck for A$502m in 2018. He is involved with several biotech companies today, including Imugene (ASX:IMU), Prescient Therapeutics (ASX:PTX), Chimeric Therapeutics (ASX:CHM) and Radiopharm Theranostics (ASX:RAD).
Between 2005 and 2014 he was an investment banker in the USA and in addition to the ASX companies he was involved in, he helped in the corporate development of a number of NASDAQ and private companies.
Stocks Down Under Concierge is here to help you pick winning stocks!
The team at Stocks Down Under have been in the markets since the mid-90s and we have gone through many ups and downs. We have written about every sector!
Our Concierge BUY and SELL service picks the best stocks on ASX. We won't just tell you what to buy – we give you a buy range, price target, a stop loss level in order to maximise total returns and (of course) we tell you when to sell. And we will only recommend very high conviction stocks where substantial due diligence has been conducted.
Our performance is well ahead of the ASX200 and All Ords.
You can try out Concierge for 3 months … for FREE.
GET A 3-MONTH FREE TRIAL TO CONCIERGE TODAY
There's no credit card needed – the trial expires automatically.


Stocks Down Under
Average rating:
0 reviews
If investing in resources stocks (particularly junior explorers) is too risky, another option is investing in metal exchanges. But is…
Investors have been excited about Leo Lithium (ASX:LLL) over the past year and so have we! We thought this was…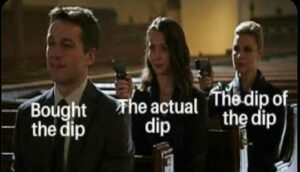 We recap the 5 top investing mistakes that investors make. These mistakes are not the only ones investors make, but…