Emerging Stocks Down Under 8 December 2020: Cynata Therapeutics, Novatti Group, Oncosil Medical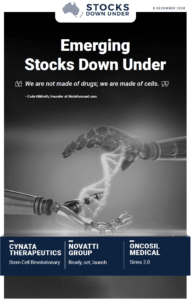 Cynata Therapeutics: Stem Cell Revolutionary
In today's edition of Emerging Stocks Down Under, the Melbourne-based biotech Cynata Therapeutics is preparing for the day when the Stem Cell Revolution arrives. Stem cells represent one of the most powerful class of medicines yet developed. Cynata, with its Cymerus technology, has one of the best ways to make stem cells at low cost. With Cynata having completed its first partnering deal and rapidly building out its pipeline, we believe this is a four-star opportunity.
Also in today's edition, a look at payment solutions startup the Novatti Group (ASX: NOV) and pancreatic cancer treatment developer Oncosil Medical (ASX: OSL).
Get access to all editions through a 30-day FREE TRIAL. No credit card required and the trial expires automatically.
Click here to read the previous edition of Emerging Stocks Down Under published 1 December 2020
For in-depth research reports or to keep up-to-date on the latest Stocks Down Under news see our parent company, Pitt Street Research, or follow us on Facebook and Twitter
Please register or upgrade your plan to access this content.