Emerging Stocks Down Under 15 December 2020: First Graphene, Universal Biosensors, Adacel Technologies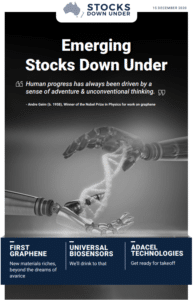 First Graphene: New materials riches, beyond the dreams of avarice
In today's edition of Emerging Stocks Down Under, imagine a material 100 times stronger than steel, tougher than diamonds, highly conductive of heat and electricity, very flexible and, potentially, almost transparent. That is graphene. Everyone agrees that there's very little you couldn't do with this hot new material once it can be manufactured at a reasonable price. The Perth based First Graphene believes that it has cracked that last puzzle and is working towards commercialisation.
Also in today's edition, a look at medical device developer Universal Biosensors (ASX: UBI) and Adacel Technologies (ASX: ADA).
Get access to all editions through a 30-day FREE TRIAL. No credit card required and the trial expires automatically.
Click here to read the previous edition of Emerging Stocks Down Under published 8 December 2020
For in-depth research reports or to keep up-to-date on the latest Stocks Down Under news see our parent company, Pitt Street Research, or follow us on Facebook and Twitter