ASX Top 200 Stocks Down Under 11 April 2022: Dominos (ASX: DMP)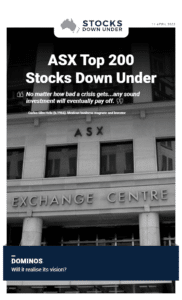 Dominos: Will it realise its vision
Dominos (ASX: DMP) listed on the ASX in 2005 at $2.20 per share and has made solid returns to shareholders, surging to over $80 today. And the company thinks it can achieve similar growth in the next decade, aspiring to grow from over 3,000 stores to over 6,000. DMP's share price has suffered in the short-term due to COVID-19 impacts but given this company's track record, we think shareholders can be hopeful that it will deliver.
Click here to read the previous edition of ASX Top 200 Stocks Down Under published 4 April 2022
For in-depth research reports or to keep up-to-date on the latest Stocks Down Under news see our parent company, Pitt Street Research, or follow us on Facebook and Twitter.