ASX Top 200 Stocks Down Under 4 April 2022: Nickel Mines (ASX:NIC)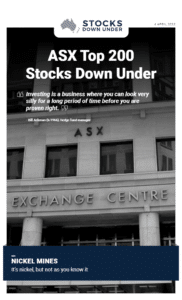 Nickel Mines: It's nickel, but not as you know it
Nickel Mines is arguably the most intriguing nickel producer on the ASX. It was founded by a Norm Seckold-led group of investors in 2007, listed in 2018 and has made a 250%+ return since then. Rather than exporting nickel ore direct from its Indonesian projects, it smelts the ore and turns it into Nickel Pig Iron (NPI), which can be turned into stainless steel. And it has a partnership with the world's largest stainless steel producer, Tsingshan. Yet it is trading at a discount right now, seemingly just because of unfounded peers Tsingshan may have had to sell out of the company due to a big short gone wrong.
Click here to read the previous edition of ASX Top 200 Stocks Down Under published 28 March 2022
For in-depth research reports or to keep up-to-date on the latest Stocks Down Under news see our parent company, Pitt Street Research, or follow us on Facebook and Twitter.