ASX Top 200 Stocks Down Under 11 July 2022: Elders (ASX: ELD)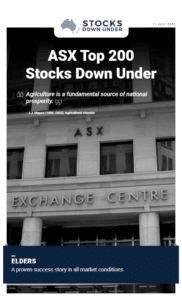 Elders: A proven success story in all market conditions
As we observed in mid-May, when we covered GrainCorp (ASX: GNC), agriculture has been a resilient sector this year. This thesis still holds true, particularly in respect of Elders (ASX: ELD), which is up nearly 2% this year, over 11% in the last 12 months, and up 147% in the last five years. As a business that traces its origins back to 1839, we shouldn't be surprised that it can thrive in adverse market conditions. Elders' history has not been perfect – it nearly went bust during the GFC. But it has had success in the past couple of years due to solid agricultural conditions and how the business spent the bad times (preparing itself for better ones).
Click here to read the previous edition of ASX Top 200 Stocks Down Under published 4 July 2022
For in-depth research reports or to keep up-to-date on the latest Stocks Down Under news see our parent company, Pitt Street Research, or follow us on Facebook and Twitter.