ASX Top 200 Stocks Down Under 16 January 2023: Commonwealth Bank (ASX:CBA)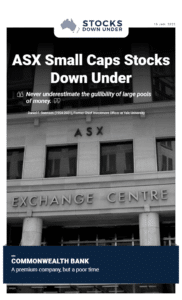 Commonwealth Bank: A premium company, but a poor time
The Commonwealth Bank (ASX:CBA) is Australia's largest bank and the ASX's second biggest company after BHP (ASX:BHP). It trades at a significant premium to its other Big Four peers with a market capitalisation of over $170bn and a P/B multiple of nearly 2.4x (compared with the 1.7x sector average). You could argue that CBA deserves this premium, given that the bank has the most customers of the Big Four (over 15m customers), the largest market share in the home loans market (25%) and made the largest Return on Equity (ROE) of the Big Four two years running. But will this continue as interest rates rise?
Click here to read the previous edition of ASX Top 200 Stocks Down Under published 9 January 2023.
For in-depth research reports or to keep up-to-date on the latest Stocks Down Under news see our parent company, Pitt Street Research, or follow us on Facebook, LinkedIn and Twitter.