ASX Top 200 Stocks Down Under 19 December 2022: Corporate Travel Management (ASX:CTD)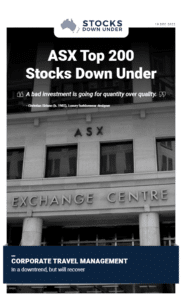 Corporate Travel Management: In a downtrend, but will recover
Investors are likely to be pleased with the performance of travel stocks this year, with many returning to profitability, or on the cusp of doing so. The share prices of these companies have followed suit, but not all have returned to pre-Corona Crash levels. So, you might think there's further upside left, particularly in respect of Corporate Travel Management (ASX: CTD). We are not so convinced. Yes, business travel is high-margin compared to so-called VFR (visiting friends and relatives) travel. However, business travel hasn't rebounded to pre-pandemic levels.
Click here to read the previous edition of ASX Top 200 Stocks Down Under published 12 December 2022.
For in-depth research reports or to keep up-to-date on the latest Stocks Down Under news see our parent company, Pitt Street Research, or follow us on Facebook, LinkedIn and Twitter.