ASX Top 200 Stocks Down Under 5 September 2022: IPH (ASX:IPH)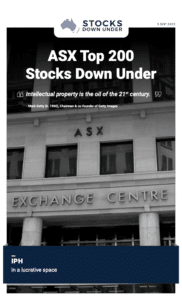 IPH: In a lucrative space
Intellectual property is a peculiar space to be in with no shortage of companies working on the next big thing in their industry, seeking to protect what they're working on (or just want to work on someday). IPH (ASX: IPH) is one of the few ways ASX investors can gain exposure to this space. And its recent FY22 results impressed investors.
Click here to read the previous edition of ASX Top 200 Stocks Down Under published 29 August 2022.
For in-depth research reports or to keep up-to-date on the latest Stocks Down Under news see our parent company, Pitt Street Research, or follow us on Facebook, LinkedIn and Twitter.