ASX Top 200 Stocks Down Under 09 August 2021: Galaxy Resources, Nanosonics, Pact Group Holdings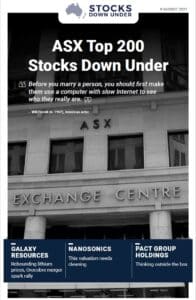 Galaxy Resources: Rebounding lithium prices, Orocobre merger spark rally
In today's edition of ASX Top 200 Stocks Down Under, since we last wrote about Perth-based Galaxy Resources (18 February 2020) the share price has skyrocketed to another dimension. Up 385% over the past year, the hard rock lithium producer is rapidly closing in on its January 2018 all-time high of $4.42. Less than a year removed from trading under $1.00, the remarkable turnaround has been sparked by a sharp recovery in lithium prices—and more recently, a proposed merger with Orocobre. We expect Galaxy stock to time-travel to new heights as global electric vehicle (EV) demand soars.
Also in today's edition, a look at medical disinfection product developer Nanosonics (ASX: NAN) and specialty packaging solutions provider Pact Group Holdings (ASX: PGH).
Click here to read the previous edition of ASX Top 200 Stocks Down Under published 2 August 2021
For in-depth research reports or to keep up-to-date on the latest Stocks Down Under news see our parent company, Pitt Street Research, or follow us on Facebook and Twitter.