ASX Top 200 Stocks Down Under 19 April 2021: Australia & New Zealand Banking Group, Woolworths Group, Newcrest Mining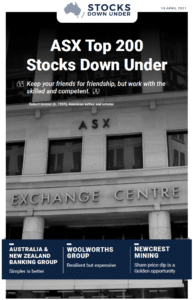 Australia & New Zealand Banking Group: Simpler is better
In today's edition of ASX Top 200 Stocks Down Under, shares of Melbourne-based Australia and New Zealand Bank (ANZ Bank) have returned to their pre-COVID price level after climbing 55% over the past year. The big 4 bank has proven its resilience and reinforced its balance sheet strength during a tumultuous economic time. We expect this rally to continue as the banking industry benefits from increased business activity and healthier personal loan demand. A simpler, more focused ANZ Bank fits well in the modern banking world.
Also in today's edition, a look at Australian retailer Woolworths Group (ASX: WOW) and gold miner Newcrest Mining (ASX: NCM).
Click here to read the previous edition of ASX Top 200 Stocks Down Under published 12 April 2021
For in-depth research reports or to keep up-to-date on the latest Stocks Down Under news see our parent company, Pitt Street Research, or follow us on Facebook and Twitter.