ASX Top 200 Stocks Down Under 12 April 2021: National Australia Bank, Champion Iron, Hutchison Telecommunications (Australia)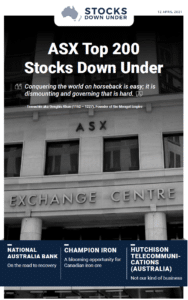 National Australia Bank: On the road to recovery
In today's edition of ASX Top 200 Stocks Down Under, the last time we checked in on Melbourne-based National Australia Bank, the share was trading at a 20-year low. Fast forward ten months and NAB had climbed 60%—and is on the verge of returning to where it was before the COVID-19 outbreak caused the floor to drop from underneath. We expect Australia's leading business bank to continue to benefit from the economic recovery, investments in digital banking and a focus on its core business.
Also in today's edition, a look at Canadian iron miner Champion Iron (ASX: CIA) and TPG Telecom investment holding entity Hutchison Telecommunications (Australia) (ASX: HTA).
Click here to read the previous edition of ASX Top 200 Stocks Down Under published 29 March 2021
For in-depth research reports or to keep up-to-date on the latest Stocks Down Under news see our parent company, Pitt Street Research, or follow us on Facebook and Twitter.