Emerging Stocks Down Under 8 June 2021: Bard1 Life Sciences, RightCrowd, IODM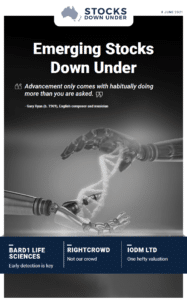 Bard1 Life Sciences: Early detection is key
In today's edition of Emerging Stocks Down Under, Melbourne-based Bard1 Life Sciences aims to fill the void in early cancer detection through its development of diagnostic tests. The company's acquisition of Sienna Cancer Diagnostics means that Bard1 now has a cancer diagnostics portfolio of both marketed and development-stage products, with the latter necessary to develop targeted platforms for patients across the screening, diagnosis, treatment and monitoring stages. Bard1 stock recently re-rated and has since trended downwards, but long-term, we're optimistic. Two stars for now, but watch for the stock bottoming.
Also in today's edition, a look at security product developer RightCrowd (ASX: RCW) and accounting software developer IODM (ASX: IOD).
Click here to read the previous edition of Emerging Stocks Down Under published 1 June 2021
For in-depth research reports or to keep up-to-date on the latest Stocks Down Under news see our parent company, Pitt Street Research, or follow us on Facebook and Twitter.