Small Cap Stocks Down Under 25 June 2021: Cardno Limited, Genex Power, Aspen Group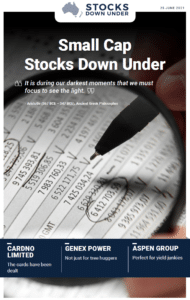 Cardno Limited: The cards have been dealt
In today's edition of Small Cap Stocks Down Under, based in Brisbane, Cardno is an engineering services company. It offers a broad range of services ranging from asset and construction management to utility and structural engineering. Operational since 1945, the company listed on the ASX in 2004 and has been continuously improving and adding to its portfolio of services to keep up with the demands of modern engineering. While Cardno is a financially sound company, its share price has risen considerably in 2021, which might just mean that it is now overvalued.
Also in today's edition, a look at renewable energy company Genex Power (ASX: GNX) and real estate developer the Aspen Group (ASX: APZ).
Click here to read the previous edition of Small Cap Stocks Down Under published 18 June 2021
For in-depth research reports or to keep up-to-date on the latest Stocks Down Under news see our parent company, Pitt Street Research, or follow us on Facebook and Twitter.