Emerging Stocks Down Under 19 October 2021: Chimeric Therapeutics, Adslot, Memphasys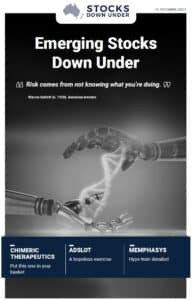 Chimeric Therapeutics: Put this one in your basket
In today's edition of Emerging Stocks Down Under, Chimeric Therapeutics is a Melbourne-based biotechnology company currently developing T-cell therapy drugs to combat cancer. Despite being extremely young (incorporated in 2020), the company recently entered the clinical stage and is rapidly developing its CLTX-CAR T-cell therapies that could potentially be used to treat a variety of cancers. With its successful IPO, the company may be able to commence further trials to test its therapies against various cancers.
Also in today's edition, a look at developer of the Adslot platform, Adslot (ASX: ADS) and biomedical device developer Memphasys (ASX: MEM).
Click here to read the previous edition of Emerging Stocks Down Under published 12 October 2021
For in-depth research reports or to keep up-to-date on the latest Stocks Down Under news see our parent company, Pitt Street Research, or follow us on Facebook and Twitter.