Emerging Stocks Down Under 12 October 2021: Dimerix, Delorean Corporation, HeraMED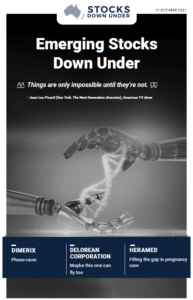 Dimerix: Phase-racer
In today's edition of Emerging Stocks Down Under, Melbourne-based Dimerix is a clinical stage biotech company using its lead drug candidate, DMX-200, as a treatment for life-threatening and difficult to treat kidney and lung diseases. With its proprietary technology also proving useful for COVID-19 respiratory illnesses, the company's lead drug is nearing market approval with multiple Phase 3 clinical trials anticipated this year.
Also in today's edition, a look at renewable energy provider the Delorean Corporation (ASX: DEL) and at-home monitoring and telehealth solutions developer HeraMED (ASX: HMD).
Click here to read the previous edition of Emerging Stocks Down Under published 5 October 2021
For in-depth research reports or to keep up-to-date on the latest Stocks Down Under news see our parent company, Pitt Street Research, or follow us on Facebook and Twitter.