Emerging Stocks Down Under 19 January 2021: Clinuvel Pharmaceuticals, MyFiziq, MGC Pharmaceuticals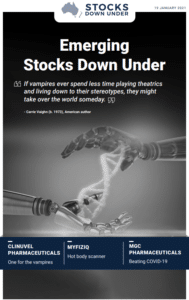 Clinuvel Pharmaceuticals: One for the vampires
In today's edition of Emerging Stocks Down Under, 2020 has not been kind to the shareholders of Clinuvel Pharmaceuticals, the Melbourne-based drug developer whose company-maker is Scenesse, for the treatment of porphyria. On 15 January 2020 the stock was going for over $29. It went below $14 during the Corona Crash and has only recovered to around $21 from there. We think Clinuvel stock will stall for a while yet until the company figures out just what its Next Big Thing is going to be.
Also in today's edition, a look at body measurement software developer MyFiziq (ASX: MYQ) and cannabis-based pharmaceutical developer MGC Pharmaceuticals (ASX: MXC).
Get access to all editions through a 30-day FREE TRIAL. No credit card required and the trial expires automatically.
Click here to read the previous edition of Emerging Stocks Down Under published 12 January 2021
For in-depth research reports or to keep up-to-date on the latest Stocks Down Under news see our parent company, Pitt Street Research, or follow us on Facebook and Twitter