Emerging Stocks Down Under 16 March 2021: Cyclopharm, ReadyTech, Webcentral Group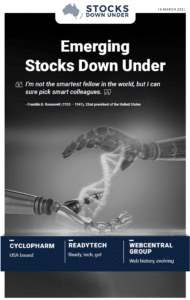 Cyclopharm: USA bound
In today's edition of Emerging Stocks Down Under, headquartered in Kingsgrove, New South Wales, is a company on a mission to improve lung imaging safety. When imaging the lungs for, say, a pulmonary embolism, the patient inhales a gasified, radioactive compound that expands through the pathways of the lung, allowing a gamma camera to create an image of the lung.
Cyclopharm's product Technegas is believed by management to offer not only a less damaging, but a more effective alternative radioactive compound. With all indications pointing to approval by the United States Food and Drug Administration during 2Q21, things are looking up for Cyclopharm.
Also in today's edition, a look at data management software developer ReadyTech (ASX: RDY) and domain management company the Webcentral Group (ASX: WCG).
Click here to read the previous edition of Emerging Stocks Down Under published 9 March 2021
For in-depth research reports or to keep up-to-date on the latest Stocks Down Under news see our parent company, Pitt Street Research, or follow us on Facebook and Twitter.