Emerging Stocks Down Under 24 January 2023: Pointerra (ASX:3DP)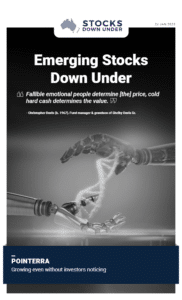 Pointerra: Growing without investors noticing
Capturing 3D data is one thing. Storing it and working on it on a desktop or on the industrial front line is another thing altogether, especially when you are dealing with enormous data sets. This is where Pointerra comes in. Although the company's share price is down nearly 50% in the last year, it is still more than triple what it was in mid-2020 when Rich Lister and tech entrepreneur Bevan Slattery bought a substantial shareholder – a transaction that sent shares from 5 cents to over 90 cents in just 7 months. And Pointerra could become profitable in FY23.
Click here to read the previous edition of Emerging Stocks Down Under published 17 January 2023.
For in-depth research reports or to keep up-to-date on the latest Stocks Down Under news see our parent company, Pitt Street Research, or follow us on Facebook and Twitter.