Emerging Stocks Down Under 31 January 2023: Island Pharmaceuticals (ASX:ILA)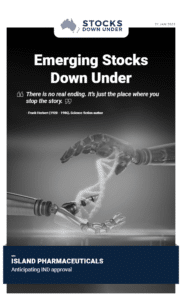 Island Pharmaceuticals: Anticipating IND approval
Island Pharmaceuticals (ASX:ILA) is the only ASX-listed Biotech that is focused on mosquito diseases, primarily Dengue fever. Mosquito diseases, such as Dengue, are expensive to treat and are expected to proliferate due to climate change and the consequential boom in the mosquito population. But maybe Island Pharmaceuticals can help.
Click here to read the previous edition of Emerging Stocks Down Under published 24 January 2023.
For in-depth research reports or to keep up-to-date on the latest Stocks Down Under news see our parent company, Pitt Street Research, or follow us on Facebook and Twitter.