Emerging Stocks Down Under 8 March 2022: Appen (ASX:APX)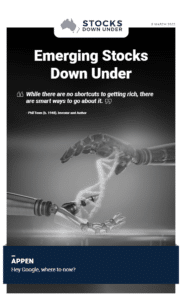 Appen: Hey Google, where to from here?
In today's edition of Emerging Stocks Down Under, we're looking at Appen – one of the few ASX companies in the machine learning space. It was once a market darling, rising from 50 cents at IPO to over $40 in August 2020. But it's been all down hill since then – the company now trades at barely over $7 after a handful of disappointing reporting seasons. We're still sticking by this company. We think even though the company's valuation did get out of hand in 2020, we also think the decline has been exaggerated by reporting on the same day Russia invaded Ukraine and the sell off in unprofitable tech stocks. Investors appear to have disregarded that the company is profitable, a dividend payer and has a significant market opportunity awaiting it – albeit one different to what investor envisioned a few years ago.
Click here to read the previous edition of Emerging Stocks Down Under published 1 March 2022
For in-depth research reports or to keep up-to-date on the latest Stocks Down Under news see our parent company, Pitt Street Research, or follow us on Facebook and Twitter.