Emerging Stocks Down Under 31 August 2021: Etherstack Plc, Urbanise, Althea Group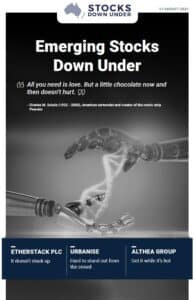 Etherstack: It doesn't stack up
In today's edition of Emerging Stocks Down Under, based in Chippendale, NSW, Etherstack is a company specialising in wireless communication technology. The company is responsible for providing protocol stacks to radio networks and wireless technology solutions. Targeting both private and public sectors, Etherstack has diverse clients, ranging from first responders and the military to geographic information services. In recent years, the company has placed a heavy focus on strategic partnerships and public sector contracts in a bid to grow its revenues.
Also in today's edition, a look at cloud-computing solutions provider Urbanise (ASX: UBN) and medical grade cannabis provider and grower the Althea Group (ASX: AGH).
Click here to read the previous edition of Emerging Stocks Down Under published 24 August 2021
For in-depth research reports or to keep up-to-date on the latest Stocks Down Under news see our parent company, Pitt Street Research, or follow us on Facebook and Twitter.